358 Security Fence  also called Anti climb fence, is the ultimate welded mesh system providing a high degree protection and discreet visual impact on the immediate environment.
Material:Mild Steel
Surface treatment:
I. Electro galvanized welded mesh
 II. Hot dipped galvanized welded mesh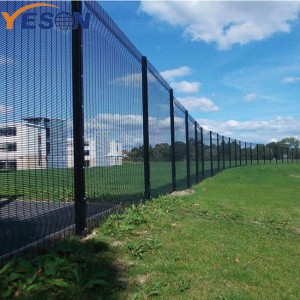 Feature of 358 High Security Fence :
Strong anti-climbing ability

Strengthening the mesh increases the degree of damage

Long use time

strong and sturdy
Application of  358 High Security Fence:
Airport fences are mainly used for protective nets, but also for protection belts on both sides of highways, bridges, airports, ports, and docks.
Isolation and protection of parks, lawns, zoos and residential areas in municipal construction.
358 Fence Description

Panel height

2100mm

2400mm

3000mm

Fence height

2134mm

2438mm

2997mm

Panel width

2515mm

2515mm

2515mm

Hole size

12.7mm×76.2mm

12.7mm×76.2mm

12.7mm×76.2mm

Horizontal wire

4mm

4mm

4mm

Vertical wire

4mm

4mm

4mm

Panel weight

50kg

57kg

70kg

Post

60×60×2mm

60×60×2mm

80×80×3mm

Post length

2.8m

3.1m

3.1m

Clamp bar

40×6m slotted

40×6m slotted

40×6m slotted

Fixings

8 gal bolt c/w permanent security nut

No. of fixings

8

9

11

Customization accepted
---
---